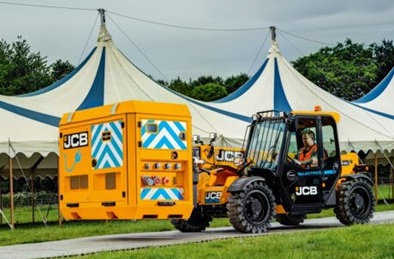 Power packs can supplement generator power by saving costs where the generator only needs to to produce low power outputs.
JCB is building upon the success of its two 230V single-phase electric powerpacks, with the launch of three new 400V three-phase units. When used in conjunction with existing on-site power generation equipment, JCB battery powerpacks allow customers to reduce their dependence on diesel-powered generators when electrical demand is low. This increases efficiency, reduces fuel consumption and exhaust emissions, for a cleaner, lower carbon worksite.
With typical site use, generators can spend as much as 80% of the time running inefficiently at or below 30% load. However, even at this load, they require fuel, produce emissions and noise, and will need regular servicing. Project offices and cabins, for example, can be powered by a diesel generator set for up to 24 hours a day, seven days a week, though at night they may simply be powering CCTV and security lighting.
The solution is an electric powerpack. Powerpacks can be used to support the low load requirements on a site, reducing reliance on noisy diesel generators. Powerpacks also deliver a green solution for charging JCB E-Tech electric machinery, such as mini excavators, compact telescopic handlers and site dumpers. The powerpack can be charged with green electricity and then transported to site, to recharge machines as required. This allows the use of environmentally-friendly electric machinery in remote locations without a site supply of mains electricity.
By utilising electric powerpacks, rental companies and contractors can reduce their reliance on diesel power, cutting service and maintenance, as well as operating costs. The JCB electric powerpack can help customers to reduce their CO2 emissions, to lower noise on site and extend generator life.
The three new powerpacks are the 3.50QE, the 3.75QE and the 3.100QE. With an output voltage of 400V, they have a total storage capacity of 46kWh, 69kWh and 104kWh respectively. With a continuous output of 36kW at 25C, each unit offers multiple socket connections, with RCD protection and input and output busbars, for ultimate connection flexibility.
The powerpacks are JCB LiveLink enabled, providing remote monitoring and ensuring that power is available when and where it is required. LiveLink also gives users the option to control some of the output sockets, enabling operators to remotely turn off sockets that are no longer required, to improve the efficiency of their site.
Each JCB electric powerpack is installed in a robust full steel enclosure, with lifting points and fork lift pockets, making it easy to transport on site. There are no fluids, no filters and no routine service requirements, ensuring low running costs and maximum availability. Equipped with energy-dense lithium-ion battery technology, JCB electric powerpacks deliver maximum power in the smallest package, reducing dependence on diesel power generation in every application. Source